1st Semester Syllabus Jharkhand Polytechnic 2023, JUT Ranchi
Jharkhand Polytechnic 1st Semester Syllabus: 1st Semester Syllabus of all branches for 3-year Diploma in Engineering in Jharkhand. This syllabus is issued by the Jharkhand University of Technology (JUT) for all Polytechnic Colleges of Jharkhand.
1st Semester JUT Syllabus
The syllabus of the First Semester is the same for every branch.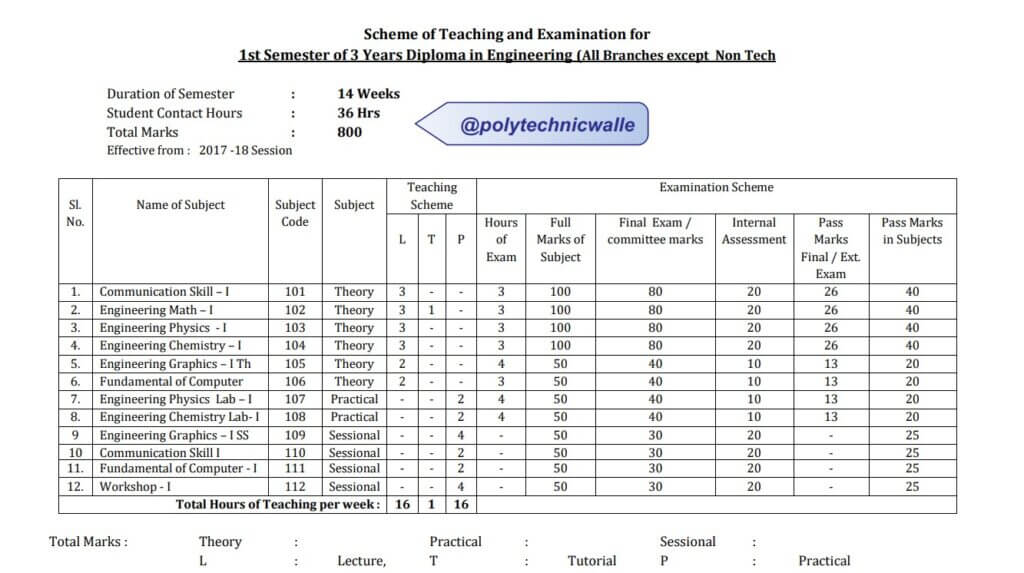 The First Semester syllabus of all Branches of Jharkhand Polytechnic issued by SBTE/JUT is mentioned below:
In this syllabus, students are intended to learn about the subjects like Basic Chemistry-1, Basic Physics-1, Basic Mathematics-1, Communication Skills, Workshop-1, Fundamentals of Computer, and Engineering Graphics(Drawing).
The period of Class hours should be of 1 hrs duration as per AICTE norms.
The remaining Hrs every week have been marked for students' Library and student-centred Activities.
Drawing / Graphics / Practical / Sessional examinations will be held at the parent institution.
Board will depute the examiner for the Practical examination.
Regarding sessional examination, the parent institution will form a three-member committee and this committee will examine the sessional records and hold viva of the examinee for 60 % marks allotted to the subject. Marks for the remaining 40 % will be provided by the Faculty concerned based on the evaluation of each job/work throughout the semester.
Al the Polytechnic College in Jharkhand is approved by the All India Council for Technical Education and affiliated with the Jharkhand University of Technology (JUT).
The syllabus for the technical and non-technical courses is issued by JUT, Ranchi.