Diploma Trainee Job – Super Smelters Ltd, Jamuria, West Bengal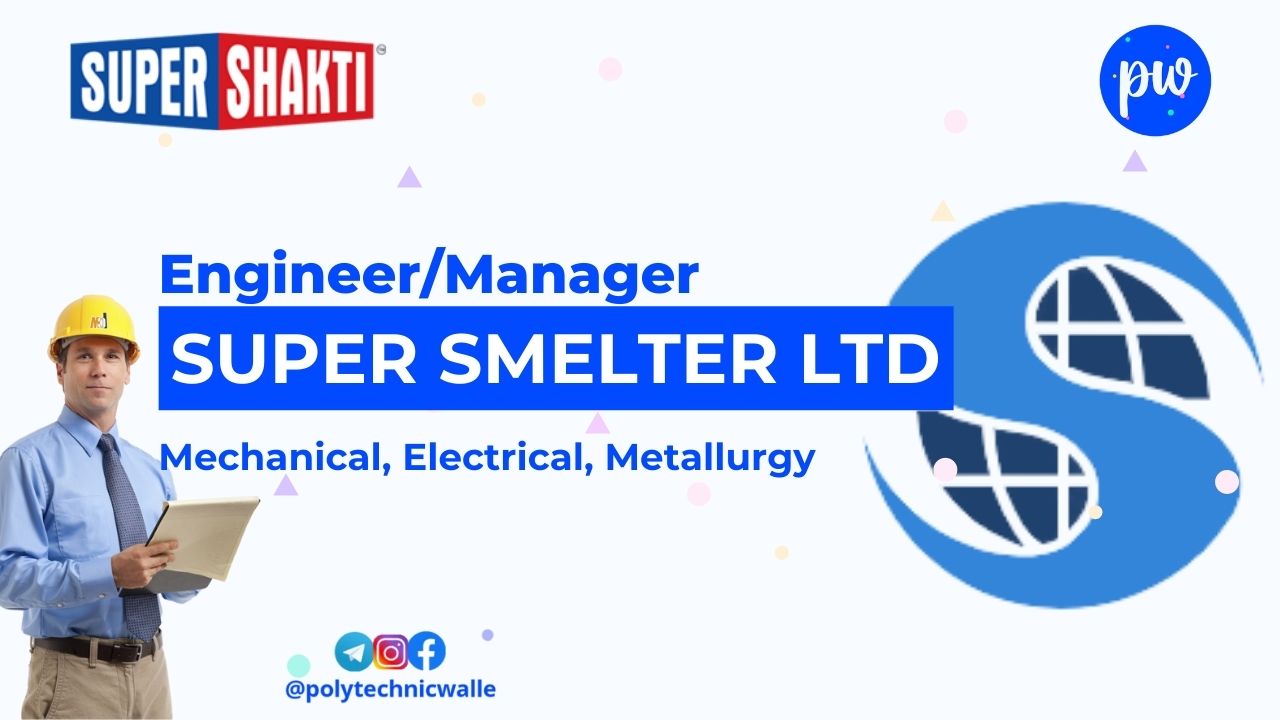 Super Smelters Ltd is the flagship company of Sai Group. Super Smelters Limited is having its works at Jamuria, Paschim Burdwan, West Bengal.
Super Smelters Limited is presently the largest plant of this group, and it is a modernized integrated steel plant with facilities like Railway Siding, Captive Power Plant etc.
Super Smelters Limited also visits the Jharkhand University of Technology, Ranchi (JUT Ranchi) for campus Placements.
Overview
Company Name
Super Shakti, Super Smelters Ltd
Location
Jamuria Bypass Rd, Asansol,
West Bengal 713336
Post
DET (Diploma Trainee Engineer)
Qualification
Diploma (Mechanical, Electrical, Metallurgy)
JUT Ranchi Campus
26th and 27th August 2022, 9 AM
Official Website
supershakti.in
Candidates must be fresher and they will be from either the last batch or last year's batch. Super Smelter hires Diploma Trainee Engineer through On-Campus Placement in different Polytechnic Colleges.
Facilities for Trainees:
Facilities for Diploma Trainees Engineer (DET) in Super Smelters Ltd are mentioned below
After completion of 1-year training program, they promote DET as Asst. Engineer.
You will get a "Confirmation Letter" after the successful completion of the training period.
First 3 months you will get "Multiskilled Orientation Training" at their own training centre.
Remaining 9 month you get On Job Training (OJT) in different plant areas.
Super Smelters LTD have furnished bachelor accommodation including subsidized Veg/Non-Veg canteen (Lunch / Dinner & Breakfast).
All trainees should stay at their Hostel which is mandatory.
Game Zone, Meditation centre, Open Gym & theatre hall is available in this Hostel.
During this training period total 12 Consolidated Leave is applicable for them and apart from them Weekly Off & National & Festival Holidays are available.
EPF & ESIC & all other required compliance are applicable for all trainees.
Candidates must be fresher and they will from either last batch or last year batch.
Hostel Charges in Super Smelter ltd Jamuria, West Bengal
Hostel Accommodation charges
(Only Maintenance & Electricity Charges)
₹ 200
Hostel canteen charges
₹ 2000 per month
Plant canteen charges
₹ 300 per month
Super Smelter ltd Salary/Stipend
Salary/Stipend for Diploma Trainee during the training period in Super Smelter LTD.
| | |
| --- | --- |
| During Training | ₹ 12,040 monthly |
| Puja Bonus | ₹ 12,040 |
| Production Incentive | Monthly basis as per applicability |
Super Smelter provide Rs 12040 Gross on monthly basis. After confirmation it will be revised.
Apart from salary they also provide Rs 12040 /- as their "Puja Bonus" after completion of 1 year.
Selection Process
For Diploma Trainee Campus Placement, candidates will be hired through a Written Test followed by an Interview. Interviews and Written Tests will be done offline in Super Smelter.
How to Apply in Super Smelter Ltd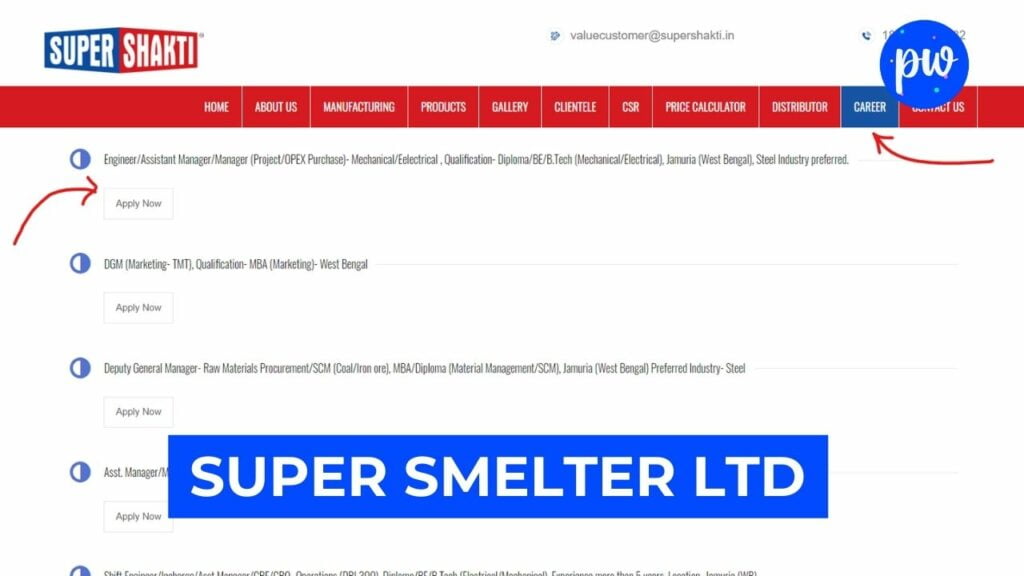 Follow these steps to get a job in Super Smelter Ltd Jamuria.
Visit their Offical Website supershakti.in
Head to the Career page from the top menu.
Choose the available vacancy and Apply Now according to your qualification and experience.
Fill your personal information, contact details, applying for and upload your resume.
Type your strengths and why your are applying for the job in the message section.
Submit your Application.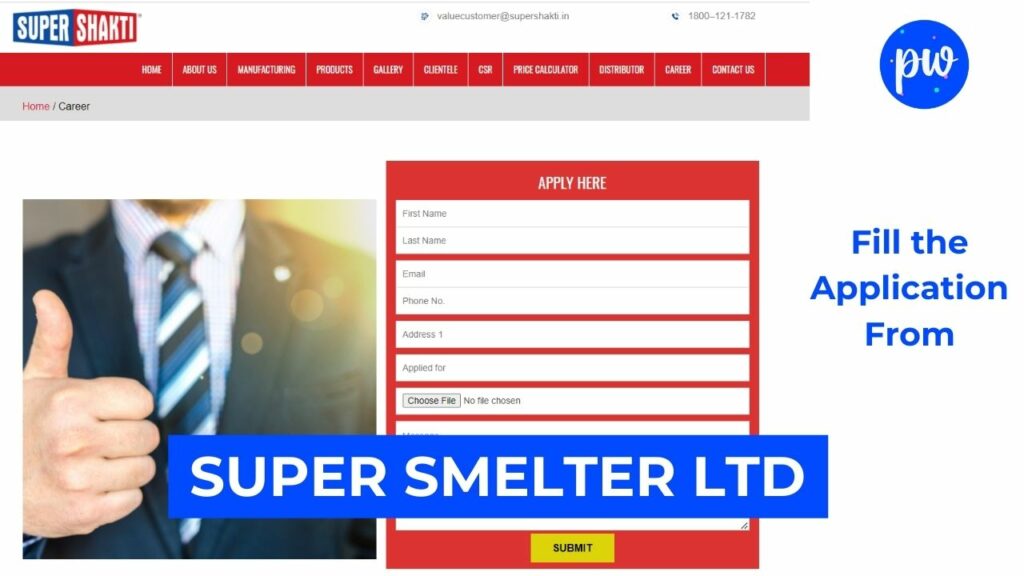 Super Smelter ltd Jamuria Contact No.
Contact Info of Super Smelter ltd Jamuria are given below,
'PREMLATA', 3rd Floor, 39 Shakespeare Sarani, Kolkata -700017 West Bengal
Phone No.- 1800–121-1782
Mobile No.- + 91033 – 2289 2734/35/36
Email- valuecustomer@supershakti.in
What is the contact number of Super Smelter ltd?
How to check the latest vacany in Super Smelter Ltd?
You can check the latest vacancy in Super Smelter ltd Jamuria on their Career Page.
All the above information is taken from their Campus Placement Application Form 2022 and their Official Website.
If you know more about Super Smelter LTD Jamuria you can share it with us below in the comments.