E Kalyan Scholarship 2022 Jharkhand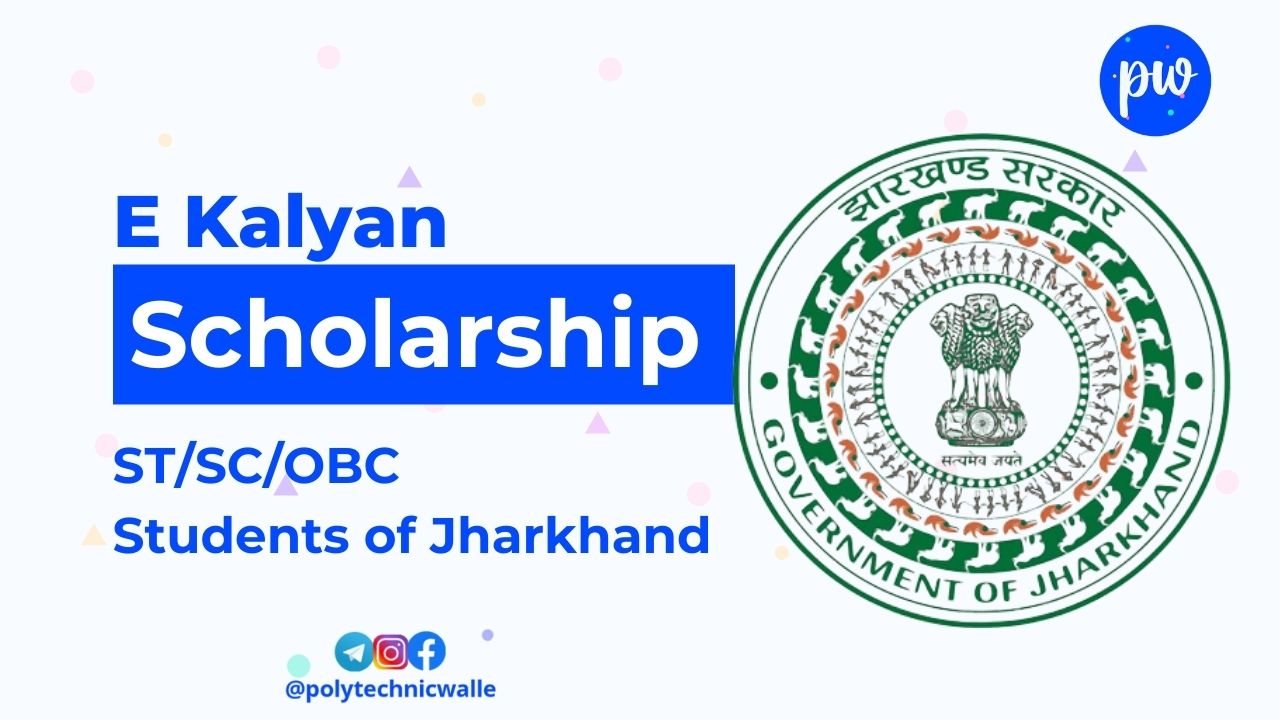 E Kalyan Jharkhand Scholarship 2021-2022 Online Apply start for Jharkhand Students. So all the students should carefully check the given below details like – Required Documents, Eligibility, Important Dates, Haw Can Apply, Rejection Reasons, Helpline Number etc.
Overvirew
Online Start Date
05 January 2022
Online End Date
15 January 2022
Re-Opened Start Date
18 February 2022
Re-Opened Last Date
28 February 2022
Student Verification
by Institution Last Date
04 March 2022
Official Website
ekalyan.cgg.gov.in
Official Notification
Download
Re-Opened Notification
Download
Post-Matric (Within State & Outside State) application feeling by the students will be open on 18/02/2022 and the last date is 28/02/2022.
Students verification by the institute will be open on 18/02/2022. And last date each 04/03/2022.
Application by the new educational institution for registration on ekalyan portal and renewable by already registered institution will be open on 18/02/2022 and last date is 28/02/2022.
Required Documents for E Kalyan Scholarship
Required Documents for Applying E Kalyan Scholarship (Jharkhand). General, EWS and TWF Quato Candidate's are not applicable for E Kalyan Scholarship (Jharkhand).
Student Passport Size Photo
Income Certificate (Jharkhand)
Residential Certificate (Jharkhand)
Caste Certificate (Jharkhand)
Bonafite Certificate with Fee Structure (Through College)
Previous Year Marksheet
Student Bank Passbook
Scan copy of Application Form (Signature of Student and Parent/Guardian After applying).
College Eligiblity
All institutions in Jharkhand are recognized by the Government of Jharkhand/Competent Authority.
Students Eligiblity
Who can Apply for the E Kalyan scholarship (Jharkhand)?
Students must be of Jharkhand State.
Students must be either Schedule Tribe (ST) or Schedule Caste (SC) or Backward Cast (BC).
Students Annual Family from all sources should not exceed as per the list given below.

(I) schedule tribe(ST) or Schedule Caste (SC) Rs.2,50,000/-(Rupees two Lac fifty thousand only)
(ii)Backward class (BC) Rs.1,50,000/-(Rupees one lac Fifty thousand only)
Who can not apply for a Scholarship?
Students belonging to the categories other than SC,ST,BC
SC, ST students whose annual family income is more than Rs 2,50,000/-(Rupees Two lacs fifty thousands), and BC Students whose family incomes is more than than Rs.1,50,000/-(Rupees one Lac Fifty Thousand).
E Kalyan Scholarship Verification Process
After filling E Kalyan scholarship application online form your application will proceed with the verification process.
College/Institution Verification
DA Level Verification
AA Final Verification
After final AA Approval Scholarship Amount will be credited to your Aadhar Linked Bank Account.
If all the required documents are not uploaded, such applications will not be processed for verification.
You can check your application status on the E Kalyan Website.
Log in with your account credentials in ekalyan.cgg.gov.in/studentLogin.do
Click on Application Status.
Select your Academic Year.
Check Your Application Status of E Kalyan Scholarship.
पहले E Kalyan Scholarship Application आपके कॉलेज से Approve होगा| उसके बाद ही Status आगे बढ़ेगा और Final Approve होने के बाद आपके Bank Account में पैसे आ जाएगा|
याद रखें आपका Bank Account आपके Aadhar Number से जुड़ा हुआ होना चाहिए अन्यथा आपके Bank Account में Scholarship की राशि नहीं जाएगी|
Check Aadhaar Bank Linking Status
E Kalyan Rejection Reasons
If not the bonafide student.
Incorrect Caste Certificate , Income Certificate .
Non Upload of caste, Income certificate.
Incorrect course and year of study.
If Student not uploaded all documents like Student Photo,Bonafide Certificate,Caste Certificate,Residence Certificate,Income Certificate, Student Previous Marks Sheet,Bank Pass Book Scanned copy, Scanned copy of Online System generated application.
Non Upload of Scanned copy of Online System generated application duly filled and signed with concern person.
E Kalyan Contact & Helpline Number
For any technical queries,
E Kalyan Contact Helpdesk No's: +91-8409588101,+91-7258010024, 040-23120591,040-23120592,040-23120593 (from 10:30AM to 5:00PM Monday to Saturday working days only)
E Kalyan E-mail: helpdeskekalyan@gmail.com
If you have any queries regarding anything you can text us on our telegram group, Jharkhand Polytechnic Students' Club.
Can I edit the information already saved and up to what time?
Yes, you can edit the information filled by you until you finalize and submit the online application.
How can I apply online for the E Kalyan scholarship?
The Post Matric Scholarship Schemes for 2021-22 (Within the State/Outside the State) are online Schemes. In order to apply online, please visit the website through ekalyan.cgg.gov.in
Is PAN CARD mandatory for applying for the scholarship?
No, PAN Card is not mandatory. However, it is advised to fill in the details (PAN Card Number) only if the applicant parents have the PAN Card.
Do I need to get my Aadhaar Card to apply for the Scholarship?
Aadhaar Card Number is mandatory for the students in order to fill up the application form online. Students can also apply for Scholarships by entering the Aadhaar number.