JSSC JE Syllabus 2023: Civil, Mech, Electrical [PDF Download]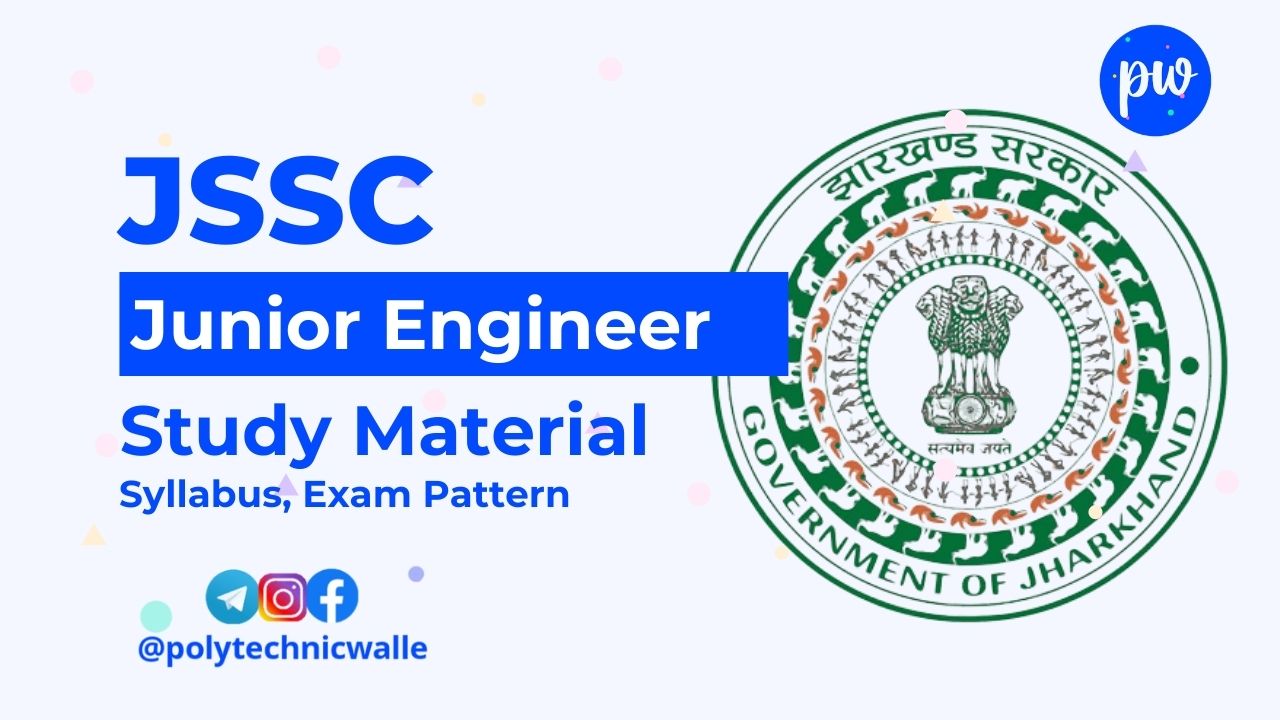 JSSC JE Syllabus 2022 for Civil, Mechanical & Electrical is explained below for JSSC JE Exam 2022. You can check and download the PDF of the official JSSC JE Syllabus 2022 that is given in this post.
The JSSC JE exam syllabus will have the Mains exam only comprising of objective type of questions. There will be 240 questions of 3 marks each.
The latest JSSC JE exam syllabus along with the exam pattern & marking scheme is given below to start your preparation.
JSSC JE Recruitment 2022, Apply Online, Exam Date, Selection Process
Name of the organisation
Jharkhand Staff Selection Commission (JSSC)
Post 
Junior Engineer (Electrical/ Civil/ Mechanical)
Name of the Exam
JSSC JE Mains Exam
Selection Process
Single-stage exam 
Mode of Exam
Computer Based Test (CBT)
Number of Papers
Paper 1 
Paper 2
Total Marks
720 Marks
Total Number of Questions
240 Questions 
Type of Questions
Objective Multiple Choice Questions (MCQs)
Negative Marking
Yes, 1 mark for every incorrect answer
Job Location
Jharkhand
Official Site
http://www.jssc.nic.in/
Summary of the JSSC JE syllabus
The JSSC JE syllabus comprises a single-stage exam, called the JSSC JE Mains exam. The JSSC JE Mains syllabus will have the only objective type of questions.
There will be two papers, Paper 1 & Paper 2 where each paper shall have 120 questions with 3 marks each. The JSSC JE Paper 1 shall have questions pertaining to General Engineering and General Knowledge only. On the other hand, Paper 2 shall have only subject-specific questions. 
JSSC JE Syllabus & Exam Pattern
Here is a brief idea about the JSSC JE exam pattern. The exam pattern will let you know the marks distribution and marking scheme.
Paper
Name of the Subject
Total Questions/ Number Of Marks
Marks
Exam Duration
Paper 1
General Engineering (80 Questions)
General Knowledge (40 Questions)
120 Questions
360 Marks
2 Hours
Paper 2
Civil Engineering
Mechanical Engineering
Electrical Engineering
120 Questions 
360 Marks
2 Hours
 
Total
240 Questions
720 Marks
4 Hours
JSSC JE Syllabus for Paper 1
Here we have explained to you the JSSC JE syllabus for Paper 1. The Paper 1 exam syllabus for JSSC Junior Engineer comprises of the following subjects: 
General Engineering (सामान्य अभियांत्रिकी )
General Studies (सामान्य ज्ञान )
The syllabus for both the papers mentioned above has been discussed below. 
JSSC JE General Engineering
Civil Engineering
Building Materials, Estimating, Costing and Valuation
Surveying
Soil Mechanics, Hydraulics, Irrigation Engineering,
Transportation Engineering, Environmental
Engineering
Structural Engineering
Theory of Structures,
Concrete Technology,
RCC Design,
Steel Design
Electrical Engineering
Basic Concepts
Circuit Law
Magnetic Circuit
AC Fundamentals
Measurement
Measuring Instruments
Electrical Machines
Fractional Kilowatt Motors
Single Phase Induction Motors
Synchronous Machines
Generation
Transmission
Distribution
Estimation & Costing
Utilization & Electrical Energy
Basic Electronics
Mechanical Engineering
Theory of Machines
Theory of Machine Designs
Properties of Pure Substances
Refrigeration Cycles 
Principle of Refrigeration Plant
Nozzles & Steam Turbines
Properties & Classification of Fluids
Fluid Statics
Strength of Materials
Strength of Materials
Measurement of Fluid Pressure
Fluid Kinematics
Dynamics of Ideal Fluids
Measurement of Flow Rate 
Air Standard Cycle for IC Engines
Air Compressor & Cycle
Hydraulic Turbines
Centrifugal Pumps
Classification of Steel
IC Engine Performance
IC Engine Combustion
IC Engine Cooling & Lubrication
Rankine Cycle of System
Boilers
Classification
Specification
Fitting and Accessories
JSSC JE General Studies Syllabus
General Awareness
Current Affairs
History and Polity
Economics
Awards and Honours
Books & Authors
Important Days and Dates
Jharkhand GK
Indian National Movement
General Science
Questions based on everyday basic science will be asked
General Mathematics
Basic Arithmetical questions of 10th class
Reasoning
Coding-Decoding
Mirror image
Order and Ranking
Direction and Sense
Number series, etc. 
Computer
Basic knowledge of computers is required 
Knowledge of social media
Computer fundamentals
JSSC JE Syllabus for Paper 2
JSSC JE Civil Syllabus
The JSSC JE syllabus is given below with all the important topics that you must cover to be able to qualify for the examination. 
Building Materials
Estimating, Costing and Valuation
Surveying
Soil Mechanics
Hydraulics
RCC Design
Steel Design
Irrigation Engineering
Transportation Engineering
Environmental Engineering
Structural Engineering: Theory of structures
Concrete Technology
JSSC JE Mechanical Syllabus
The JSSC JE syllabus for Mechanical Engineering is given below. 
Theory of Machines and Machine Design
Engineering Mechanics and Strength of Materials
Thermal Engineering- Properties of pure substances
1st Law Thermodynamics
2nd Law of Thermodynamics
Air Standard Cycles for IC Engine
IC Engine Performance, IC Engine Combustion, IC Engine Cooling & Lubrication
Rankin cycle of steam
Boilers
Air Compressors & their cycles; Refrigeration cycles; Principle of Refrigeration Plant; Nozzles & Steam Turbines
Fluid Mechanics and Machinery
Production Engineering
JSSC JE Electrical Syllabus
The JSSCS Junior Engineer syllabus for the electrical engineering (विद्युत अभियांत्रिकी) paper is given below. Check the important topics below. 
Electric Circuits
Electromagnetic Fields
Signals and Systems
Power Systems
Electrical Machines
Electrical and Electronic Measurements
Analog and Digital Electronics
Power Electronics
JSSC JE Syllabus 2022 PDF Download
To ease your preparation for the JSSC Jr. Engg. exam, we have provided you with the JSSC JE syllabus PDF. Click on the download link given below.