JSW Paints Pvt Ltd. Diploma Engineer Trainee Apply, Eligibility, Salary, Facilities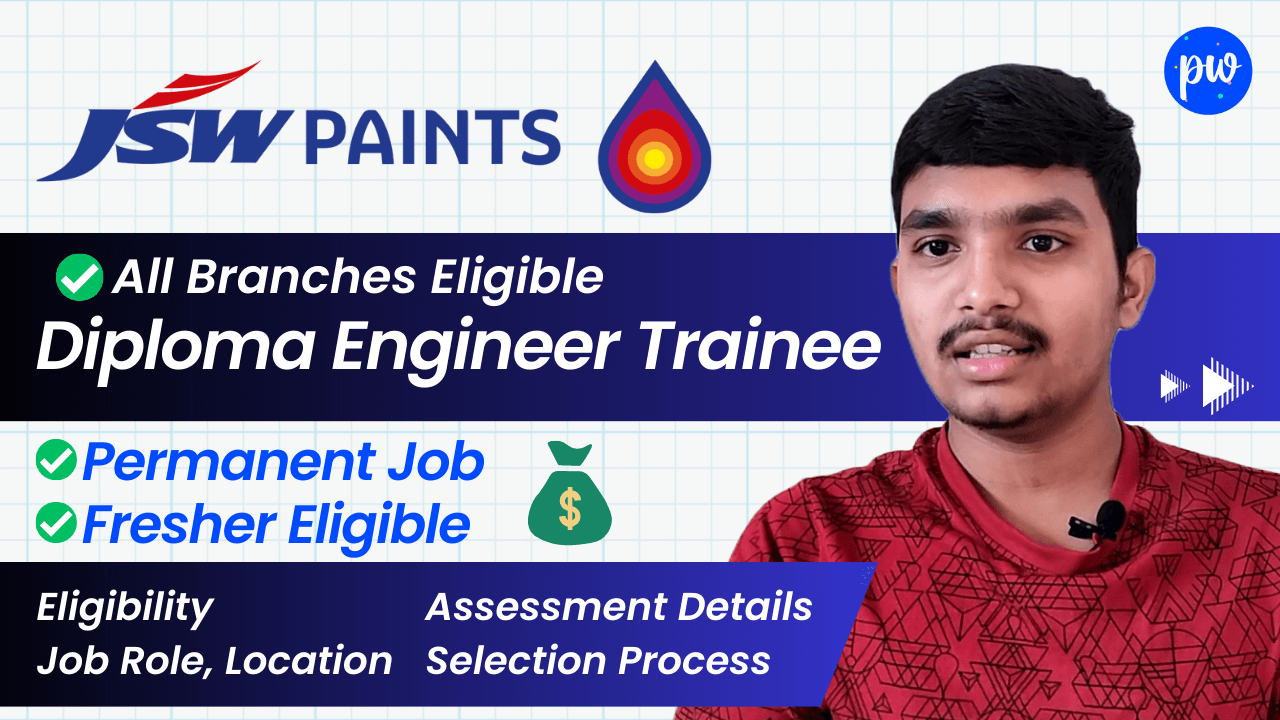 JSW Paints Pvt Ltd is hiring Diploma Engineer Trainees (DET) for its plant in Bellary, Karnataka. If you are interested in working for one of the leading paint manufacturers in India, read on to find out more about this opportunity.
Eligibility:
To apply for this position, you need to have a diploma in Chemical, Mechanical, Electrical, or Electronics/Telecommunication engineering from a recognized institute. You also need to have 0-1 year of experience in a similar role. You should have good communication skills, problem-solving skills, and team spirit.
Job Location:
You will be working at the JSW Paints plant in Bellary, Karnataka. The plant has state-of-the-art technology and automation systems to produce high-quality paints and coatings. You will be part of a dynamic and diverse team that strives for excellence and innovation.
Salary:
You will receive a competitive salary during your training period, which will be based on your performance and potential. After completing your training, you will be eligible for a higher salary and other benefits as per the company policy.
Facilities:
As a DET, you will enjoy various facilities provided by the company, such as accommodation, transportation, medical insurance, canteen, gym, sports, and recreational activities. You will also get exposure to various learning and development programs to enhance your skills and knowledge.
Responsibilities:
As a DET, you will be responsible for the following tasks:
Adhere to the plant safety procedures and ensure zero safety incidents
Achieve the shift targets in terms of productivity, delivery, quality, safety, cost, and environment
Identify the process bottlenecks and suggest improvement solutions
Build the capability of the technicians
Troubleshoot the issues with the support of stakeholders
Handle manpower-related issues on the shop floor
Update and maintain documentation (IMS, department records, etc.)
Plan resources (technicians and contractors) for routine and non-routine activities
Understand the packing machine, equipment, products, processes, and automation
Understand the design capacity, operations, and troubleshooting
Operate DCS, Batch Portal, and SAP systems
Coordinate with relevant stakeholders to achieve the shift target, OEE, etc.
How to Apply:
If you are interested in this position, please click the link below to apply online. You will need to fill in your personal details, educational qualifications, and work experience, and upload your resume. You will also need to answer some questions related to your suitability for the role.
Apply Link: https://www.naukri.com/job-listings-diploma-engineer-trainee-jsw-paints-pvt-ltd-bellary-ballari-karnataka-0-to-1-years-100723004093
This is a great opportunity for diploma engineers who want to start their careers in the paint industry. JSW Paints is a reputed company that offers a challenging and rewarding work environment. Don't miss this chance and apply today!