Best Laptop for Coding, Gaming, Editing in ₹55,000 – Lenovo IdeaPad Gaming 3
Lenovo IdeaPad Gaming 3
Features
AMD Ryzen 5 4600H
8 GB DDR4 RAM
512 GB NvMe SSD
4 GB Graphics NVIDIA GTX 1650
Windows 10 (Free upgrade to Windows 11
15.6″ 120 Hz FHD IPS Display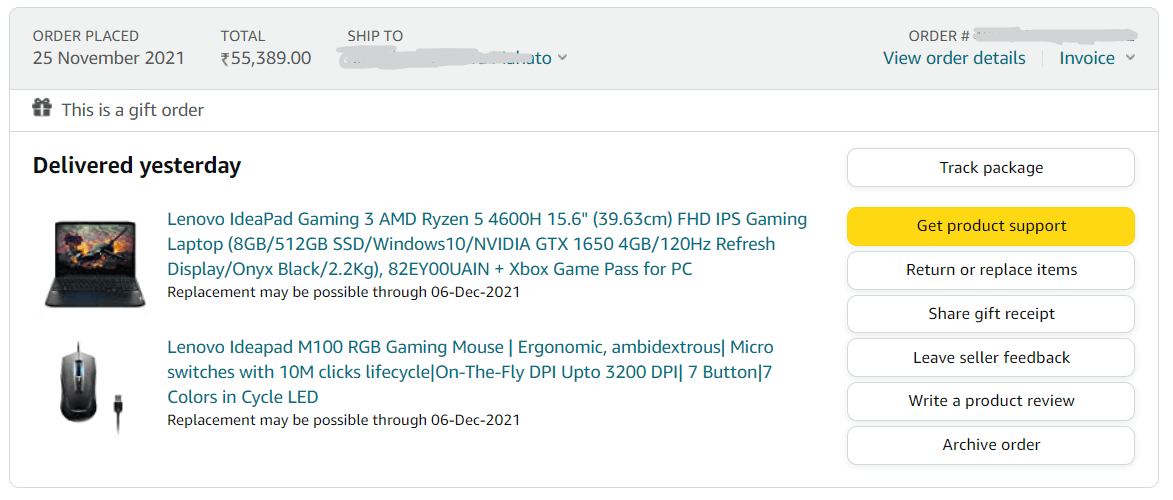 Lenovo IdeaPad Gaming 3 (8GB/512GB SSD, AMD Ryzen 5 4600H)
Lenovo IdeaPad Gaming 3 is one of the best options in this price segment of ₹60,000. Sometimes you can get it under ₹55,000 but for that, you have to keep your eye on it.
I got this laptop with the mouse for ₹55,389 on 25 November. You can add this product to your cart and whenever you get it under ₹60,000, just buy it.
In October 2021, the 60 Hz display variant was listed for just ₹53,999 but I wasn't able to make that purchase.
Now I would like to discuss some features of this laptop.
Coding: Lenovo IdeaPad Gaming 3 Laptop comes with AMD Ryzen 5 4600H which comes with 6 Cores and 8 threads CPU that makes it ideal for Coding as well as Editing and Gaming.
Editing: Editing Software like Premeire Pro use CPU and Da Vinci Ressolve use GPU for their rendering process. So it depends on the software which editing software you use, it comes with a good CPU and a good 4 GB NVIDIA GTX 1650 Graphics.
Gaming: With good CPU and GPU it comes with both 60 Hz and 120 Hz Refresh Rate Display. If you are more into Gaming I will recommend you to choose 120 Hz Display. But ultimately it depends on price and deal which you will get during buying.
In the Lenovo Store of my city, it was costing me around ₹ 62,000 AMD for Ryzen 5 4600H with 512 GB SSD and ₹ 55,000 for Intel i5 10th Gen with 1 TD HDD. So I decided to wait for a price drop on Amazon to have a great deal.