JEEDEC 2024: 5-Year B.tech Program for Working Professionals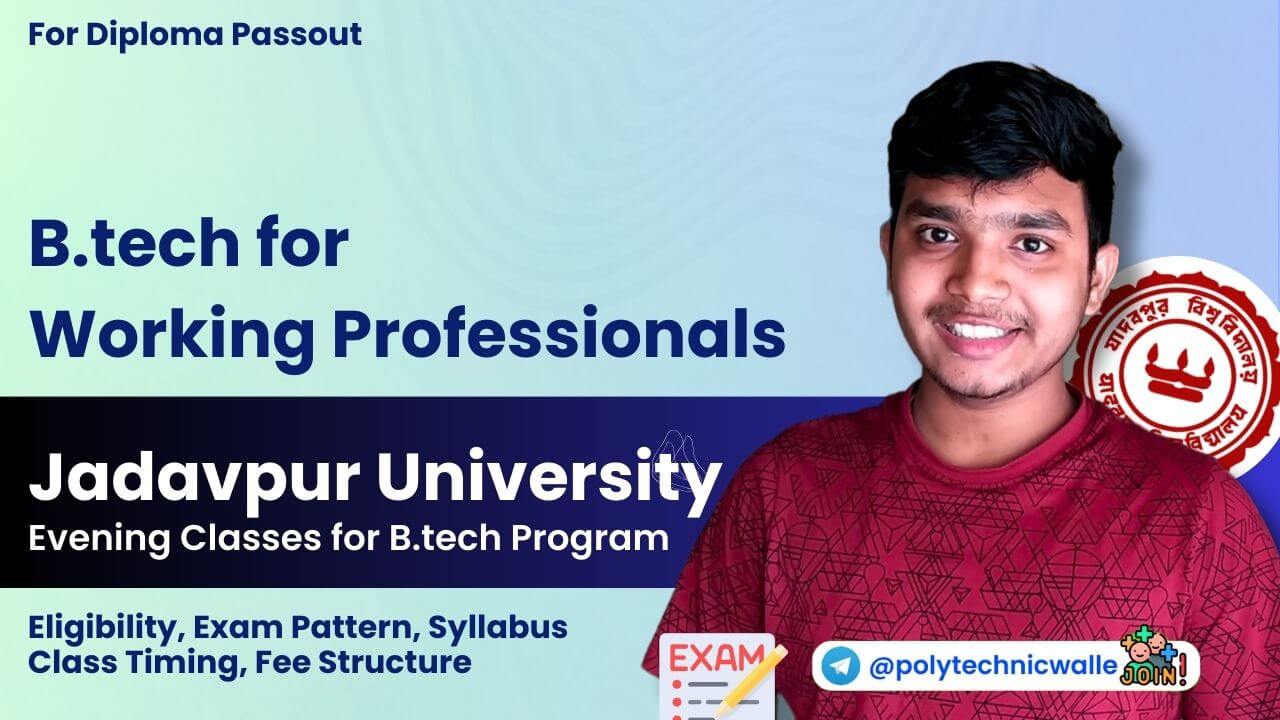 If you are a working professional who wants to pursue a B.Tech degree from Jadavpur University, you might be interested in the JEEDEC exam. JEEDEC stands for Joint Entrance Examination for Degree Evening Courses, and it is conducted by Jadavpur University every year for admission to its five-year part-time B.Tech programs in Civil, Electrical and Mechanical Engineering. In this blog post, we will give you an overview of the JEEDEC exam pattern, application fees and syllabus, and some tips on how to prepare for it.
JEEDEC Eligibility
To be eligible for the JEEDEC entrance exam for admission to 5-year evening degree courses in civil, electrical, and mechanical engineering at Jadavpur University., you must meet the following criteria:
You must be an Indian citizen.
You must have passed a diploma exam in civil, electrical, or mechanical engineering from a UGC-recognized Indian university, government, or statutory body with at least 60% marks or equivalent grade points (45% marks or equivalent grade point for SC/ST/OBC-A&B/PWD candidates).
You must have at least one year of relevant experience in the respective field after the publication of the diploma exam result and till the last date of submission of the application form.
You must have a no-objection certificate from your employer at the time of admission.
JEEDEC Exam Pattern
Marking scheme: 50 MCQ questions (100 marks)- Each question will carry 2 marks.
Negative marking for each question will be 0.5
The exam is conducted in Kolkata only.
JEEDEC Application Fees
The application fee for the JEEDEC exam is Rs. 400 at the time of application for admission. The application fees are non-refundable and non-transferable.
The candidates found eligible for admission need to pay Rs. 3860.00 (Rupees Three Thousand Eight Hundred and Sixty only) as Admission Fee and charges for the First Year of study.
JEEDEC Syllabus
The syllabus for the JEEDEC exam is based on the diploma-level curriculum of the respective engineering branches.
Download the Offical Syllabus of JEEDEC 2023 from Jadavpur University.
The candidates are advised to refer to the official website of Jadavpur University for the detailed syllabus of each branch. Some of the important topics are:
Civil Engineering: Surveying, Building Materials, Construction Technology, Structural Analysis, Design of Steel Structures, Design of Reinforced Concrete Structures, Soil Mechanics, Foundation Engineering, Fluid Mechanics, Hydraulics and Hydraulic Machines, Environmental Engineering, Transportation Engineering etc.
Electrical Engineering: Circuit Theory, Network Analysis, Electrical Machines, Power Systems, Control Systems, Power Electronics, Electrical Measurements and Instrumentation, Analog and Digital Electronics, Microprocessors and Microcontrollers etc.
Mechanical Engineering: Engineering Mechanics, Strength of Materials, Theory of Machines, Machine Design, Fluid Mechanics and Machinery, Thermodynamics, Heat Transfer, Refrigeration and Air Conditioning, Power Plant Engineering etc.
Tips for JEEDEC Preparation
To crack the JEEDEC exam, you need to have a good grasp of the diploma-level concepts of your engineering branch. You also need to practice a lot of previous year's papers and mock tests to get familiar with the exam pattern and difficulty level. Some of the tips that can help you prepare better are:
Revise the important formulas and concepts regularly.
Solve as many numerical problems as possible.
Focus on your weak areas and improve them.
Manage your time efficiently during the exam.
Avoid guesswork and skip the questions that you are not sure about.
Read the questions carefully and eliminate the wrong options.
Stay calm and confident during the exam.
We hope this blog post has given you some useful information about the JEEDEC exam. If you are interested in applying for it, you can visit the official website of Jadavpur University for more details. We wish you all the best for your JEEDEC preparation and future endeavours.
References